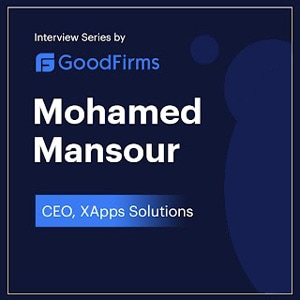 XApps Solutions is Future Proofing Online Businesses: Mr. Mohamed Mansour 
With innovative and top-notch business expertise in eCommerce solutions, XApps make an impressive position in the online business globally. This article by GoodFirms researchers intends to highlight the entire journey traveled by the CEO of XApps- Mr. Mohamed Mansour.
XApps, founded in 2009, is a software development company in Egypt. The company believes in delivering innovative and exceptional m-commerce applications for Android and iOS users. The knowledgeable and dedicated team of developers here employ the latest technologies like artificial intelligence (AI) and big data analysis to develop extraordinary online shopping apps that help businesses to conquer the fiercely competitive eCommerce sector.
XApps Solutions' team of developers are equipped with comprehensive technical knowledge and skills making them capable enough to analyze and support the clients' business. They are also experts in delivering technical and security consultations to their valuable clients. Therefore, as per GoodFirms, XApp Solutions is among the top development companies in Egypt.
Team GoodFirms got the opportunity to discuss with the company's CEO, Mohamed Mansour, and talk about his company's services and how he foresees his company moving forward.
While speaking about his company XApps and briefly explaining his role within the organization, Mr. Mansour expressed that his company focuses on converting ideas into creative applications. A wide range of iOS and Android apps are developed by the company using emerging technologies like machine learning, bots, IoT (Internet of Things), ethical hacking, AR, and VR.
Further, the company has served many clients from governmental, multinational companies, and startups in fields such as education, medicine, eCommerce, logistics, and many others with android and iOS apps. Even the company has its eLearning platform and products that are helping more than 50 thousand students.
Being the company's CEO, Mr. Mansour worked as a development manager and was responsible for managing the development and design team with quality control. The principal development methodology of the company is to use native technologies for building any solution and system that offers stable and updated methods. Moreover, the quality control team efficiently works for bugs free solutions.
Success Story of XApps Solutions 
Mr. Mansour recalls that the company's primary purpose is to convert ideas into intuitive apps that can solve problems and grow business.
While enquiring about how the company sets itself apart from the competition, the CEO replied that the company aims to offer simple and creative UI/UX designs with a stable and bug-free system that is scalable and easy to maintain. The dedicated and knowledgeable team members provide long-term responsible support to the clients.
The CEO added that the company's model depends on an in-house team offering high-quality project timing control.
Industries Served
Team GoodFirms questioned Mr. Mansour about the industries XApps generally cater to. The CEO answered that the company serves many fields and industries such as Education, Medical, Logistics, Startups, Governmental, and multi-national organizations. Further, 95% of the customers are repetitive that recommend to other customers and extend more phases and stages for their projects.
Additionally, the clients mostly approach custom systems development using Native, Android, iOS, and Web platforms and eLearning solutions with content security.
Customer Satisfaction Rate
In knowing about the customer satisfaction rate, Mr. Mansour clarified that 96% is the customer satisfaction rate. The highly skilled professionals deliver continuous support with technical and technological solutions and innovations that reflect their business growth.
Besides that, the experienced team members here provide excellent and prompt support to cater to the clients' queries and issues.
Below-mentioned review proves the company's incredible services and systematic approach to maintain the long-term relationship with the clients.
For more reviews, click here 
Payment Structure
While questioning about the payment structure to bill the clients, Mr. Mansour expressed that the company provides estimation per phase and features after making a conference meeting with the clients to profoundly know their business requirements and the experts suggest the apt solution for their needs and finally decide the cost and estimated time for the completion of their project.
Furthermore, the company is open to all clients, and the dedicated team sees many small start-up initiatives that possess the potential to grow into far more significant opportunities. In 2021, the professionals here delivered projects that ranged with many pricing varieties.
While summing up the interview, the GoodFirms team asked Mr. Mansour where he sees his company in a decade, and he pleasantly stated that the company possesses the vision to offer digital transformation solutions with more technological capabilities employing IoT, Robotics, AI and more.
To learn more about futuristic thoughts of XApps Solutions CEO, Mr. Mansour, you can also go through the detailed interview at GoodFirms platform.
 About GoodFirms
Washington, D.C.-based GoodFirms is an innovative B2B Research and Reviews Company that extensively combes the market to find business services agencies amongst many other technology firms that offer the best services to their customers. GoodFirms' extensive research process ranks the companies, boosts their online reputation, and helps service seekers pick the right technology partner that meets their business needs.
About the Author
Working as a Content Writer at GoodFirms, Anna Stark bridges the gap between service seekers and service providers. Anna's dominant role is to figure out company achievements and critical attributes and put them into words. She strongly believes in the charm of words and leverages new approaches including new concepts that enhance the firm's identity.