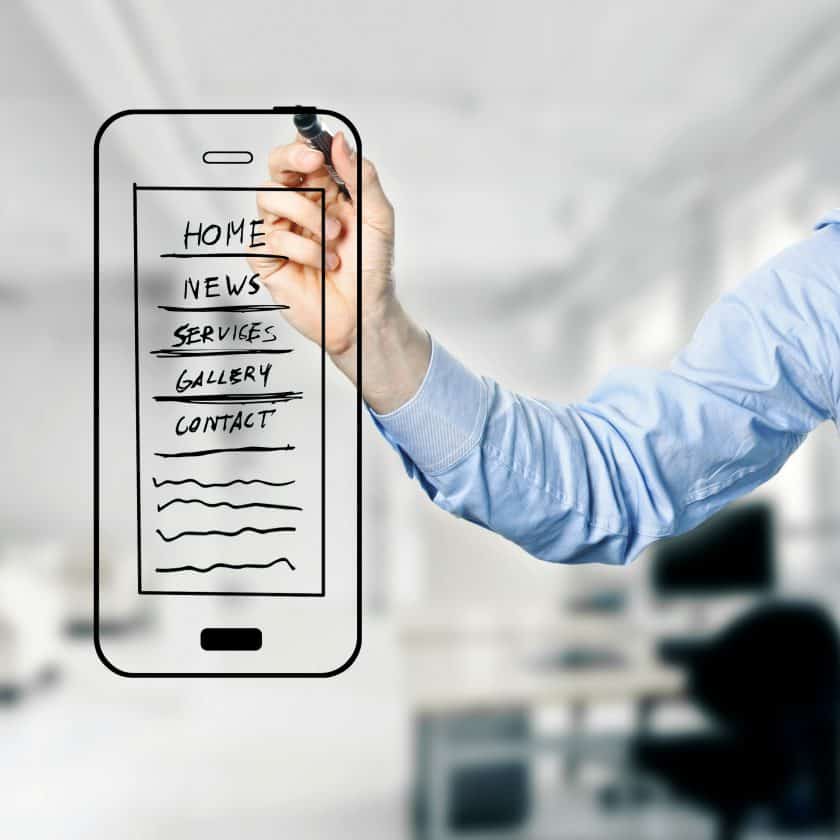 Mobile applications are the most spread trend in development fields. So, in this article, we will show these trends in 2023.
Mobile applications are the most widespread trend in development fields. So, in this article, we will show these trends in 2023.
Apps are completely dominating the mobile market, from small businesses to large corporations, everyone is getting their own dedicated mobile apps to attract more mobile customers. We came up with these awesome mobile app ideas, all suggested by users on the internet… We hope you find the best  app idea and let's implement it into reality!!
Mobile today has become synonymous with growth, as companies that do not have mobile applications are significantly less likely to grow in the future.
The dedicated mobile app is easier to use and navigate and looks much better than the mobile website. Moreover, the mobile application development business is so good that almost every developer in the world is trying to make money in this field.
If you are looking for some ideas for developing really cool and new mobile apps, here we have some ideas for you.
101 Undiscovered Idea to develop your mobile application in 2023


#1  Scanning and shopping apps that allow you to scan any merchandise to find it on the internet through the image, thus, through these apps, you can search for and buy commodities from online shopping sites easily. And you can add more features to make the app more interesting and useful.
#2  Smart cooking app, an app that will ask the user for ingredients names and will recommend/suggest a dish that can be prepared using those ingredients. And it will come in very handy when you are looking to make a good dish with the ingredients you have available.
#3  Graph Restaurant Reservation App, this app allows you to see the graphic layout of the restaurant, choose the seats/table you want and make a reservation for a specific time period.
Great!! You will not have to wait in a long line to reserve a table
#4  An on-demand car wash app will provide your customers with the ability to request a car wash service from home, at any time, and in the condition they need the car in.
#5  A criminal warning app can be designed to help users stay vigilant and watch out for wanted criminals in their area. The app will also have an alert button to report to the police and a GPS feature to show your location to the police.
#6  A virtual exam study app where students can meet and prepare for the exam along with other students of the same majors. Learning can be enhanced through tools, discussions, help, guidance and free study materials.
Are you still wondering why to invest in mobile app development?? See here our previous work and experience to program your wonderful application 
#7  An online navigation app, it takes the user to his destination via the route which is not much used but is interesting according to his interests and preferences, instead of the shortest or most preferred route.
#8  Online flower and gift delivery app where you can schedule flower and gift delivery for upcoming birthdays of your friends, relatives or anyone else. The app will automatically select the best flowers/gifts and place an order for home delivery on your behalf.
#9  Supermarket Checkout Acceleration & No Queue It Allows You To Automatically Scan Products On Your Mobile App While Shopping In Supermarkets, Also Allows You To Pay Automatically With Integrated Electronic Payment Options.
 – That would be a great idea!! Soon, Amazon will launch its first store without payment terminals in Seattle. 
#10  Food recommendation and review app, an app that shows suggestions from real people that the user trusts. The app will allow users to follow other people they trust and see their recommendations while choosing a product or service.
#11  An app to find available parking spaces in a specific location. The app will use GPS, location, webcams, and parking data to find a free parking spot at the moment.
#12  An online decorator app, an app that allows you to take a picture of your room or any place you want to design and visualize it using several available design options, such as colors, objects, wall stickers, curtains, etc. He will also recommend places where you can purchase these interior items.
This is an experimental augmented reality application for interior design
#13  A virtual tattoo preview app, an app that lets you preview how a particular tattoo will look on you so you can make a sure decision to get it or not. Perhaps you will benefit from digital augmented reality to test designs virtually.
#14  A comprehensive security monitoring app, an app that allows you to control all the security devices and equipment inside your home or office, you can unlock the door, check camera footage, etc., via the app.
#15  Money and billing management app, an app that automatically calculates user finances based on bills, sends payment due date alerts, splits bills among roommates and sends alerts to them.
Having a billing management app can be very beneficial, get this cost effective mobile app today 
#16  Social networking app, an app where you can make friends or connect with your existing friends to buy and sell stuff online. This app will also allow you to make recommendations, search for and buy products based on friends' suggestions.
#17   Instant Car Sharing is an app that allows users to register their cars anytime they go somewhere, so that other users can share the ride with them if they are on their way and split the cost accordingly.
#18  Spoken language translation app, an app that will translate the words a person speaks in real time so that they can be understood by anyone else who speaks a different language. This is a very cool and useful idea for a mobile app.
#19  A task scheduling and motivation app that reminds you of daily tasks and provides motivation to do the tasks you don't feel like doing, such as exercising, waking up, reading, etc.
#20  The smart flirt app that automatically scans your friends lists from all social networks and suggests your best match based on similar activities, likes, engagement, their opinions of you and more.
#21  A receipt management app that will store all user receipts and invoices in one place so that they don't need to manually manage each receipt. It will also have an option for merchants to send your bills directly to the app on your mobile phone.
Want to start your own business but don't have ideas? Here is  a step-by-step guide to designing and programming your first application on Android and iPhone
#22  A subscription management app that will keep track of all your subscriptions and bills and alert you when payment is due. The Application may also contain an integrated payment system for automatic bill payments.
#23  Tenant Finder and Connection App, an app that will allow landlords to find potential tenants and connect with them directly without any agent, also it will allow tenants to connect with existing landlords regarding property issues, maintenance requirements, rent payment, etc.
#24    A travel suggestion app , an app that will automatically find and search for the best places worth visiting and things to do in a particular location that the user is new to. It can also contain the possibility of suggesting the best restaurants, hotels, etc., and the possibility of reviewing them.
Excellent!! This app can help a lot of travel dreamers –  
#25  The a la carte restaurant app will not only allow users to check the current menus and the possibility of providing a table at the selected restaurant, but it will also enable the user to make reservations and pay bills from within the app.
#26  Cheap Courier & Delivery App Find the best delivery option in your local area based on the type, location, size and weight of the product to be delivered.
#27  The Food Donation System is an app that will enable restaurants to find suitable charities in their local areas to donate excess food each day. Not only will this save a lot of food that goes to waste, but it will also help a lot of poor people.
I contacted many companies and would like to know which one is better?! Here   you will know 7 points to know the difference between the quotes collected from mobile, Android and iPhone application programming companies 
#28  An app for refugees that helps them understand the languages ​​and cultures of new places so that they can communicate with the locals and start integrating into society in a better way.
#29  Transportation Alert, an app that helps users catch their bus on time by alerting them about the time, schedule, rescheduling, delays, etc. This application may also include a GPS facility to track the bus running status in real time.
#30 The tax app that keeps records of all your income, business supplies, expenses and tax transactions, and will automatically calculate your tax liability for a given period. This app will be very useful for all types of taxpayers.
#31  A shared note-taking platform is a platform where everyone can take notes, share with others, comment on notes, add to existing notes, or add new notes on a particular topic, lecture, or seminar.
#32  A text reader app that is able to read text written on a sheet of paper so that you can save it in a digital format on your phone or computer. It will not scan the image of the paper accurately, but will only read the text or number written on it.
#33  A social app for eating together, one that will find you the perfect dining companion for you every day based on your location, dates and preferences you entered so you don't have to eat alone.
#34  Social Rating App, an app that allows you to anonymously rate your friends for different qualities like smile, anger, beauty, naturalness, and much more. Your friends will be able to see the review but won't know it's from you.
#35  A music community app that helps new musicians find other musicians who are interested in starting a band together and find gigs relevant to their musical choices.
#36  An interest-based dating app that helps people find the best dates with their respective interests like geeks, geeks, comedy lovers, etc. And this would be the perfect place for introverts to find a date.
Single people alert!! –
#37  A goal management and sharing app that lets you set and track life goals, share them with others, and find people who share the same goals so users can support each other in achieving those goals.
#38  A cloud attendance app that allows all meeting or team members to get together and collaborate online to capture team attendance by contributing ideas and notes in real time.
#39  An instant messaging app that has the features of all the popular instant messaging apps like Whatsapp, Skype, Viber, FB messaging i.e. it will offer great messaging service, video calling, voice calling, online calling, sharing, emoji, business card and data sharing, large file sharing and much more.
It's not too late to get an app like WhatsApp, Skype and Facebook – contact us today
#40  A book review app that allows you to take a picture of the book and get instant feedback from Amazon, Goodreads and other platforms to help you choose whether to buy/read the book or not.
#41  Seasonal Food Finder An app that tells you the nearest places to find fresh seasonal produce, organic food, etc. and can have other features for managing a healthy diet.
#42  Lost Object Finder App This app will help users to find their eyeglasses, keys, wallet, socks and other things that they put somewhere and then forget where they actually put it. One way to do this is to take a picture with your phone every time you put something somewhere so you can look at the picture if you forget where it is later.
Wow!! We always lose a lot of things, so anyone who wants to innovate this application should contact us on this link 
#43  A Writer's Isolation app that will allow writers to work undisturbed by blocking all distractions and other functions on the device except those needed for the writing task.
#44  A housekeeping app that allows users to find and hire a service person/company to clean a specific room instead of the entire apartment, thus saving money and time.
#45  A health check-up and monitoring app that will keep track of your health records, clinic visits, and illness history. It will also keep track of regular health check-up appointments along with the doctor's number and alert you of them.
#46  A social goal sharing app where users with similar challenges and short-term goals like quitting smoking, regular exercise, dieting, etc. meet to support each other through motivation and appropriate words.
#47  A profile explorer app that will use augmented reality to see more details about a specific person or thing by scanning them. So, when you scan someone's face with the app, it will show all the details about them from all over the internet.
#48  A shopping assistant app that will allow brands to keep their users updated on the latest new releases and help them find out nearby places to buy a particular product.
good idea! 
#49  A money lending manager app that will keep track of the people (friends, etc.) who owe you money and who you owe money to. The program will contain the names of these persons, the remaining amount, due dates, etc. It also alerts you of due dates and allows you to make payments via integrated payment options.
#50  A music sharing app that will allow users to scan and find out what song anyone in their contact lists is listening to and share (listen) if the user likes it.
#51  A caller ID app that will collect/detect the image data of the person on the other side of the call by sending an ultrasound and displaying it on the receiver.
Also, I know why it's important to start small to code the best app? . 
#52  A brand identifier app that will allow users to know more about the brand of a particular commodity by scanning a brand label or logo. The app may also show some testimonials about the brand and reviews of existing users to help the person further.
#53  A virtual time capsule app that can be used to record memories, videos, and other digital data that can only be viewed at a predetermined date in the future and only to specific people.
#54  A selfie quiz and comparison app that will allow friends to enter a "selfie" contest with each other in order to learn new features and ways to improve the quality of their selfies.
#55  A grocery shopping and delivery service app that will find you the right service company or agent who can do the grocery shopping for you, exactly according to the grocery list you give them and deliver the groceries to your door.
#56  A suicide monitoring app that provides humanitarian assistance to those who need to talk to someone to get a conviction not to do such acts.
#57  The social shopping app that helps you find and connect with users to discuss all things shopping. Users can share information about offers, deals, best products, reviews, etc., to help others make shopping decisions.
#58  The all-in-one assistance app that can be used to hire a service company that comes to your doorstep for any kind of assistance related to plumbing, repair, maintenance, mechanics, medical, teaching and everything else.
#59  A story writing and sharing app for people with stories to tell. Users can log in to the app to write a story that can be seen and even enhanced by other users.
#60   An instant party planning and invitation app that lets you do all the planning and arrangements for live parties from within the app. It will also allow you to send instant invites to selected people from your contact list.
#61  A fashion designer and shopping app that suggests a specific design and style of clothes based on user choice, body, interest, and occasion. Users will also be able to share photos with others to get fashion suggestions. This app will also help you find amazing tailors near you.
#62  A different social networking app that helps you plan get-together with friends or specific people. It will contain an integrated option to find places to meet and/or events to be attended. It can suggest new plans to you based on your group's social preferences.
#63  A restaurant management app that helps restaurant owners to manage everything related to their services including registering supply orders, maintaining stock and staff, comparing prices of different items, shopping for groceries, etc.
#64  The startup help app that helps startups and new entrepreneurs find answers to common questions about starting a new business, finding clients, getting investment advice, business and everything else.
#65  App to find small-paying work in your local area. This app is for users who are in need of making some quick money and are willing to do small jobs like fixing a computer, walking someone's dog, babysitting, mowing the lawn, and other similar tasks.
#66  A hair color assistance app that lets users know how they would look if they tried out a specific hair color/style, without actually having to try it on. The application may use artificial intelligence to do this task.
#67  A "Rate and Earn" platform that offers its users gifts or money when they download/use a newly launched app through the platform and write reviews, reviews or assign ratings to that app.
#68  A mobile app to find team members for a specific project. The application will allow developers, writers, designers and other freelancers and/or other professionals to join the platform and participate in various projects to earn money.
#69  A consumer targeting app that allows users to search for specific products, brands, companies, etc., to purchase online. The app will also analyze the product and suggest better alternatives to the user if any.
#70  A public transport app that will have all the information including schedule, routes/lines, timings, conditions, etc., for public transport services in a particular city or area. Users can refer to the app to find the most suitable transfer option for them in a particular situation.
#71  Real time pub/club/restaurant search app This app only shows which bars, clubs and/or restaurants are open at the exact time the user is searching for them.
#72  A mobile food ordering app that allows users to access restaurant menus and pre-order their orders through their mobile devices so that the order is ready when they actually arrive at the place.
#73  A camera sync app that will allow you to use or access someone else's mobile camera (with their permission, of course). This app is especially useful when the other person clicks on your photo on their phone and you want to see on your phone how the photo comes out.
#74  A random chat app that shows new and random people every time you log into your chat list. You can chat with these people, add them to trusted friends and keep looking for more random people to chat with.
#75  A social messaging app that allows users to anonymously send messages to other random users whether they know them or not.
#76  A digital receipt app that allows users to get digital receipts for every transaction they make in retail stores and malls. This will reduce excessive use of paper and make it easier to manage all your receipts in one place.
#77  A travel app will tell you, based on your interests, which places not to go, instead of telling you where to go.
#78  A song search app that allows users to search for the name of a particular song based on the beat or any lyrics provided by the user. The Application may also provide a link to download or listen to the song on the Internet.
There is no doubt that the reason for creating this app is that we all know how annoying it can be when a song comes to our mind and we do not know what it is exactly –
#79  An on-demand esthetician app that allows users to find and hire the right hair stylist at any time with the option to serve you from home. The application may also have a built-in payment option.
#80  A commodities exchange app that allows users to search for other people in the same area who want to exchange commodities such as toys, clothes, electronic devices, mobile phones, etc.
#81  A smart alarm app that allows users to add some text or customize news updates to be listed with wake-up alerts. The content may include anything a user prefers to receive first thing in the morning.
#82  A wish fulfillment app will allow users to enter a list of their wishes (long term goals) into the app. Then, the application will search the internet and find the best possible path for users to follow in order to achieve the goals on their lists.
#83  A food freshness checking app that allows users to scan or click a photo of their food and then automatically checks the freshness of food items based on pre-set mechanism and parameters.
#84  A smart alarm clock app that ensures that the user never goes back to sleep after waking up once. The app will beep at the specified time and make sure that the user has actually woken up and hasn't gone back to bed again.
Something like that will work, hehe!!
Because I don't think any app can help but if you want we will create it for you –  contact us
#85  A tutor search app that helps students search for a suitable tutor or tutor for a particular subject and/or class. The application can be equipped with a review and assessment system, teacher data file, ratings and ratings, etc.
#86  Mobile app to search for a public toilet in the vicinity. It will be useful app for almost everyone around the world.
#87  An on-demand health check-up app that lets you search for a doctor, therapist, or other health professional, with the option to serve you from home.
Are you ready to create an app? Find out which is better as a freelancer or an app development company 
#89  The ultimate all-in-one card game app that allows users to play all card games within one mobile app. It will also have an online play feature for users to play with other players online.
#90  Find people with the same interests as you. The user can enter some professional and personal likes and dislikes, and based on that the app will scan and search for other users in the same area who have the same interests.
#91  A goodwill sharing app that provides suggestions for users to do the right thing by colleagues, friends and people they don't know. These actions include giving small gifts, showing kindness and good manners, helping people, being more caring, and being more polite to others.
#92  Authentic product detector app that will check and confirm if the product you are buying is genuine or not. The application will use parameters such as product quality, design, colors, product labels, etc., to identify the brand.
#93  Nearby deal alerts app that will notify you about the latest deals and offers from nearby restaurants, shopping places, theaters, etc. You can choose which categories you want to receive alerts for.
#94  A DIY encouragement app that encourages users to do more with their own hands, create small items and perform activities that are beneficial for physical, mental and financial purposes.
#95  A life assistance app that will help people with everyday tasks like cooking, fixing a fan or computer, doing minor renovations, fixing a flat tire, and much more.
#96  Old stuff donation app in which user can donate their unused stuff or give it to someone who really needs it.
#97  A health-related video chat app that allows like-minded users to connect with each other. People with the same health issues (mental or physical) can connect and talk through video chats/messages.
#98  A location based application in which user can tag all the places he has visited before so that someone else, who is planning to visit these places, can ask for suggestions, reviews, etc.
#99  A group shopping app that allows you to find buyers in the same area who want to buy the same products that you plan to buy from the same seller. The benefit behind this is that you may get a good discount/price on bulk purchases and get other benefits and benefits like free delivery.
#100  The convenient food finder app will suggest nearby food items and restaurants based on the specific diet details entered by the user. Users can search for vegetarian or non-vegetarian food or any specific menu through the app.
#101  All-in-one launcher app that consists of the features of all existing launchers, plus a lot of other features like app drawers, voice commands, customization and much more.
Note: These app ideas are collected from many trusted sources on the internet. Some or more of these ideas may already be realized in real-world applications, so proceed accordingly.
.